Since 2015 was such a fantastic year of reading (and writing!), I felt this post was appropriate. I've listed them in descending order of their impact on me. I've written a line or two next to each book, but you can learn more about them via my Goodreads page.
 1. Nexus, by Ramez Naam
Such a fun read. Plot keeps driving forward, and feels like a very realistic future should such technology enter our world. Ramez is also a great follow on twitter. I look forward to the rest of the trilogy.
 2. The Man From Earth, by Jerome Bixby
I was able to get my hands on a printed screenplay of one of my favorite films of all time, The Man From Earth. Being able to read it at a slower pace was very rewarding.
 3. A Darkling Sea, by James L. Cambais
This was on my reading list for a long time – a fact I regret. This book had incredible imagery, clever use of language, and the indigenous species were wonderfully developed.
 4. Bone Swans, by C.S.E. Cooney
Although the author is a friend of mine – her book blew me away. It's not the type of book I normally read, but I feel like I 'leveled up' as both reader & writer through her beautiful prose and depth of characters.

 5. Tie: The Sagan Diary & The End Of All Things, by John Scalzi
I love the Old Man's War universe. The Sagan Diary was an older novella I missed, and was blown away by it. 2015's latest entry to the series was so good I couldn't put it down. Scalzi remains one of my favorite authors.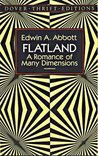 6. Flatland, by Edwin A. Abbott
One of the classics of Sci-Fi, I read most of this book sitting in a cafe alongside the Pacific Ocean. Besides being a brilliant book, I rated it high for where & when I ready it as well.

 7. Armada, by Ernest Cline
I loved Ready Player One. This book was equally amazing – although it follows a similar formula.
 8. Micro, by Michael Crichton (and Richard Preston)
I was skeptical of this one. It felt like profiteering from Crichton's name after his death. But being a fan of Crichton since I was a kid, I gave it a shot. The idea is firmly Crichton's, although it's quite obvious where Preston took control.
 9. Last Chance to See, by Douglas Adams
An excellent work on the need for conservation, from one of the funniest men who have ever lived. Highlights the absurdity of the human elements in a way that doesn't insult, but enlightens.
 10. The Green Hills of Earth, but Robert Heinlein
A short work that I 'read' via an audio recording, read by Leonard Nimoy shortly after his passing. A moving work in it's own right, made more special during a tough time for any Trekkie.
 11. Treasure Hunters #1, by James Patterson
Patterson is a prolific writer, and I picked this one up as research on how to write for the target audience for a book I finished writing. I didn't expect to enjoy the story as much as I did. Learned a ton from studying all the elements of the book as well.
 12. Stranger In A Strange Land, by Robert Heinlein
Heinlein was admittedly a quirky guy. This book highlights that quite a bit. But I grok that the themes in this book will continue to impact me for a long time.
 13. How Music Works, by John Powell
As a new-ish banjo player, I realized that my grasp of music theory was lacking. This book was a very straightforward approach to the subject, without being obtuse. As an engineer I knew much of the technical bits already, but applying them to a subject like music gave me lots of insight.
 14. Cachalot, by Alan Dean Foster
This was my first foray into Foster. It started out slow, but the story grabbed me a few chapters in. I love underwater stories, and this one didn't disappoint. On the down side, it was a bit predictable, and the moralistic parts were too overt and heavy-handed.
 15. The Glass Bead Game, by Herman Hesse
Incredibly dense book with lots of layers. Much like the game portrayed in the book.
 16. The Man in the High Castle, by Philip K. Dick
It's a great book. But reading PKD is still an unsettling experience for me. This is a good thing, as it makes me question a lot of things in the real world. But I don't see myself reading him too frequently in the future.
 17. Star Rigger's Way, by Jeffrey A. Carver
What a wonderfully weird sci-fi story. Very pulpy and bizarre. With sentient cat creatures and starships powered by the mind.
 18. My Man Jeeves, by P.G. Wodehouse
I read this after hearing that Wodehouse was an inspiration to Douglas Adams. I wasn't a huge fan of it, although the stories are very well written and quite clever.
 19. The Ramayana
A classic of Indian literature. It's concepts are very dated, but it gives some insight into how an ancient culture viewed the ideal husband/wife/child/parent/etc…
 20. Plain Answers About the Amish Life, by Mindy Strand Clark
Read for story research – a well written Q & A book that helped fill in some of the gaps of my knowledge.
 21. The Infinite Arena, short story anthology
A fun gathering of stories about sports and science fiction. Read as inspiration for my middle-grade sports sci-fi book. "Joy In Midville" was especially appropriate to that end.
 22. After The Rain, by John Bowen
As far as post-apocalyptic books are concerned: the plot's not great. But damn is the writing style entertaining. It's much more a book about the human condition, and how our judgements change to our circumstances.
 23. Star Trek: Yesterday's Son, by A.C. Crispin
An Audible recording by Nimoy that was fun, but not too memorable.
 24. The Wizard of Venus, by Edgar Rice Burroughs
There was a series of four books with the main characters. I suppose I should have read them before this – since this story felt bland to me. But it wasn't enough to get me to read those: too much else on my list.